A Successful Online Campaign Connects You To Your Potential Customers
So you plan to expand your business through internet?
Let me show you some examples how a small business company able to beat the giants in certain areas.
1. Search Engine Marketing (SEM) – Search Engine Optimization (SEO)
SEO is the process of structuring a web page so that it is found, read, and indexed by search engines in the most effective manner possible. A good SEO website will be able to ranked higher than it's competitor for specific keywords.
* In Google Malaysia, top 3 websites for keyword "computer store" are IT Hyperstore, PC Depot and Dunco; Not Dell, HP, or Apple.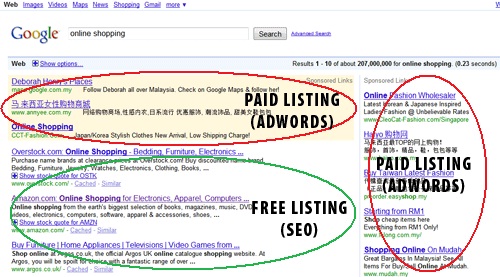 2. Search Engine Marketing (SEM) – Paid Placement
Paid Placement is where the advertisers pay to have their ads appear in search engines based on keywords.
* In Google Malaysia, Dell ads located at the top spot for keyword "computer store", Apple ads is on the second but we are not seeing HP, Acer, Lenovo etc.
3. Content Creation for Microsite
Over the years, Dell.com is no longer just a product catalog or shopping cart.
Dell extended their connection with their customers through a more interactive way.
Dell has a community support forum where users help each others, IdeaStorm where submit their ideas for Dell products, blog and more.
* Having a company blog is the easiest way to publish information/news related to your company products.
4. Newsletter/Email Campaign
Newsletter allows you to maintain regular contact with your customers. Newsletter is also very effective to inform your customers about new product launching and promotion.
A fine tuned email campaign through multiple split-test will have high email open rate and high click through rate for the links in the email.
5. Affiliate Marketing
Affiliate marketing referring to a strategy where you make use of bloggers and internet publishers to become your sales force.
You will pay these bloggers and internet publishers commission upon sales completed. They will setup your company ads in their website/blog and do their best to promote to their friends.
You might or might not know that a lot of big A successful email corporate such as Dell and HP are running affiliate campaigns.
6. Social Media Marketing
Accordingly to Alexa (a web information company), Facebook has overtake Google as the most visited website in Malaysia. In worldwide, Facebook and YouTube has overtaked Yahoo. Twitter is coming strong too.
This means people are not just searching for something they want. They actually enjoy spending more time in these social media website.
In this press release, Jemina Kiss explained why Obama's campaign team is everywhere online: YouTube, MySpace, Flickr, Twitter and Facebook.
* Your ads in Facebook might have more views than your ads in Google. However, please bear in mind that these traffic are not as targeted as search engine marketing.
7. Website Statistic Analysis
Do you know where your visitors from, how they reach you, what they are looking for, does your website grab their attention, etc…
Understand your visitors, fine tune your website and campaigns is the basic that most merchants forgotten.
8. Article Marketing
Article marketing is 1 of the easiest and cost efficient online marketing.
You write an article related to your company and have that article published through various article directories.
Internet publishers like to link or grab content for their website from article directories. When they do that, they are indirectly promoting your company.
Backlinks from article marketing are infinity and it helps a lot in SEO. As long as your article doesn't outdated, there is a chance publisher will grab/link your article and post at their blog/website.
9. Press Release (PR) Marketing
Instead of publishing article, PR publish useful news content and link back to your company website.
An optimized PR will be show on various news portal such as Google news, Yahoo news, Newsvine, etc. This marketing technique can significantly increase your company reputation.
10. Best of The Best
Now you don't need to know all these, More Web Services can do it for you! We are a group of IT professionals who team up together to provide cost efficient solution to our clients. We can fulfill all your online marketing requirements according to your specification and budget.
So what are you waiting for? Contact us NOW!